Thrives on neglect
2/3/2017
New Years' Resolutions — I have some.
Writing
Submit manuscripts to publishers.
I need to send more of my work out on submission. Shortly after coming to this conclusion: I submitted a short story to an anthology on 5th January. Pat on the back for me.
Garden
Turn my garden into a low-maintenance garden that has actual living plants in it.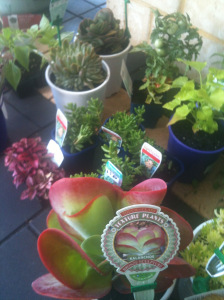 Ready to plant …
I bought pots of succulents. Lots of them. I don't love succulents — I prefer leafier sorts of plants that rustle when the wind blows (the same sorts of plants, it turns out, that can be burnt to death by summer sun and desiccated by scorching salty winds). But, emboldened by my new resolve to stock my garden with appropriate flora, I bought a stack of succulents — in particular the ones with labels that said:
COASTAL CONDITIONS
LOW WATER NEEDS
THRIVES ON NEGLECT
FULL SUN ONLY
They are now planted in between my roses (because I can't give up my roses). I'm still growing some edible plants, too. This year we have cherry tomatoes (with tomatoes on), cucumber vines (with no sign of a cucumber), passionfruit vines (with two passionfruit, hang in there!) and basil, thyme, rosemary and mint.
Drawing
Draw something little every day.
I've always wanted to be able to draw. And so I'll try to draw something little every day, even if it's complete rubbish. Because I quite like drawing. Even if it's complete rubbish.
In other news, I was very excited to find real mail in my postbox this week.
It's my latest poem 'Body Beat' in the February 2017 issue of The School Magazine (Countdown). The wonderful illustration is by Cheryl Orsini.
And I've had a couple more poems up at Poetry Tag (which were not written in 2017 but I thought I'd catch you up). Here they are:
2017 is looking good.
~ Rebecca
Save
Save
Save
Save
Save
Save
Save