Research for poetry writers
3/3/2015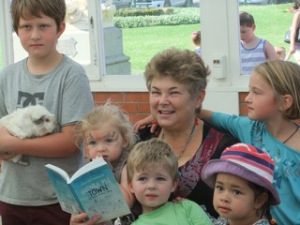 Lorraine reading from one of her poetry collections, Guinea Pig Town.
Today I welcome Lorraine Marwood as a guest-poster. Lorraine is the author of novels, verse novels and poetry collections. She's here today as part of a blog tour to celebrate the launch of the latest poetry collection — Celebrating Australia: A year in poetry, and while she's here she agreed to share some wisdom about research and poetry writers. Over to you, Lorraine!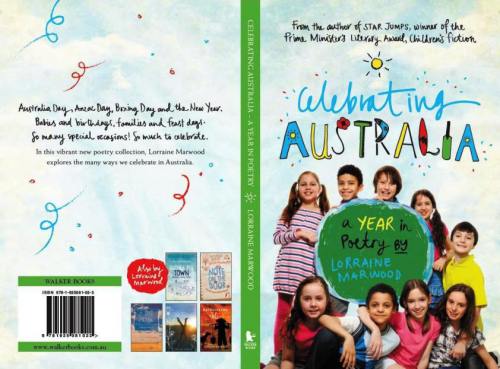 —
Research for poetry writers

I'm wondering if it is universally known that poets research to gather words, concepts, ideas, and information all for the reader's gratification? (As well as the researcher gaining much knowledge!)
I believe that a poem is as vital a form of communication as non-fiction or fiction, and dives beneath the layers of fact to provide the emotional element that in history or recounting is often lost.
In this collection, even poems with subject matter I knew a lot about had a research component. For example the Christmas poem — 'Christmas Competition,' was based on the house and street decorations we have in my hometown, but I'd also collected newspaper cuttings about it. This made it convenient to write a Christmas poem 'out of season' and visually remember the amount of time and amount of manufactured 'festive spirit' that went into house owner's decorations. Often one component of my research is newspaper clippings, unusual and also topical.
Research in this instance meant that I was looking for a different angle to present a poem on a tried and true subject.
Books and internet became the basis of research for such celebrations as Chinese New Year, Ramadan, World Oceans day, Walk safely to school day, Bastille day — to name a few. Facts, colours, customs became the entry point for the poem. I had to immerse myself in the celebration across many web pages before I had a strong enough hold upon the facts to go off on my own tangent. After all, I am trying to write in a new way about established yearly events.
My editors made suggestions of what to include if it seemed that the poem still didn't have enough depth and I re-worked or incorporated these suggestions.
For me getting facts right was very important in these poems. After all, many readers and hopefully many school classes will use these as springboards for exploration of their own celebration.
The vernacular of spoken words was researched for such iconic poems as 'Talk like a pirate day' and the Aussie slang poem for Australia Day. Again I used many sources to make a word bank of sayings and then for me finding the all important entry point. Then the poem would form its own structure and poetic devices.
Even subjects that I thought I knew a bit about like 'St. Patrick's Day' were easier to write after research and pinpointing a common theme. Images and photos of celebration all added to the depth of research and equipped me with enough ideas to write.
Here are the opening lines of the St. Patrick's Day poem
St. Patrick's Day
By all things green
and shamrock-shaped
by all things leprechaun
and pot-of-gold-shaped

© Lorraine Marwood
Of course research was even more important when topics like birthdays, grief and Christmas had more than one poem to represent them.
I really enjoy this aspect of my writing time, it's like poetic map-making or planning and kick-starts my poems in unusual and exciting ways.
—
And now that you've learned something about the research that goes into Lorraine's poetry, I have a poem of my own to share. Lorraine has challenged the host at each of the blog tour stops to write their own poem based on the patterning of her season-themed poems in Celebrating Australia. (At the first stop of this blog tour, Jackie shares instructions for using Lorraine's autumn poem as a template for your own poem.)
Here's my poem!
Winter

Winter is a constant rhythm
a plink-tink thrum-drum patterning.
One day a pianissimo tinkling
of rain on roof top,
by week's end a crescendo
of drubbing, clattering, hammering, battering.

Winter is stained glass, blurred,
a forgotten paintbrush in a waterglass.
One day the muted yellow glow
of street light halos,
by week's end a bright fireside gleam
of lighted windows along our road.

© Rebecca Newman

—
For more poem-y goodness, be sure to check out the other stops on Lorraine's blog tour.
Blog tour dates and links:
2 March Jackie Hosking: Topic: What makes a good poem ( according to LM) + giveaway.
3 March Kathryn Apel: Topic: Bringing a poetry collection together.
4 March Rebecca Newman: Topic: Research for poetry writers. [You're here!]
5 March Claire Saxby: Topic: Inside this collection.
6 March Janeen Brian: Topic: How you create for the creators: how you create ideas to excite children and adults to write poems of their own.
9 March Alphabet Soup: Topic: Writing a class poem — the results! + giveaway.