Poems in Print
4/13/2015
The year is skipping along nicely. Here it is April and I still haven't posted up a photo of my poem from the March issue of The School Magazine (specifically 'Countdown'). You can see me, very excited, on the day my copy arrived in the mail: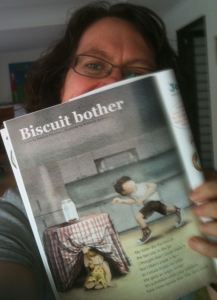 The illustrations are by the wonderful Kimberly Andrews.
What else has been happening?
Over at the Poetry Tag site I've posted a new poem called 'Waiting'. (Sally gave me the word prompts GO, FREAKY and TREE.) The resulting poem is inspired by a childhood memory.
I've been interviewed! At the Australian Children's Poetry site, Teena Raffa-Mulligan and I talked about What Makes a Good Poem, and some other poem-y stuff.
I'll have three poems published in a forthcoming anthology edited by Sally Odgers. (The anthology is called Prints Rhyming: Singing the Year.) More on that soon …
As well as cheering about exciting poetry-in-print news, I've been out in my little garden planting seeds for spring flowers, lettuce, carrots and rainbow chard. (No-one in the house likes rainbow chard much but I say IT'S GOOD FOR YOU so if it grows it will be going into our winter cooking.) I've never been able to grow carrots successfully but I'm giving it another go because I had a packet of seeds and they were about to expire. What I'm extra clever at is growing Spooky Carrots — wonky carrots with legs and arms and strange twisty shapes. Spooky Carrots still taste like the everyday sort but they are much harder to peel and to wash all the dirt off.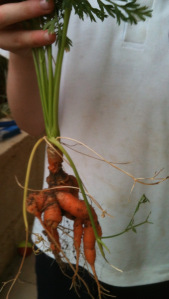 Here's a spooky carrot I prepared earlier …