Let's Talk Children's Poetry! (a Paper Bird Fellowship Evening)
1/15/2020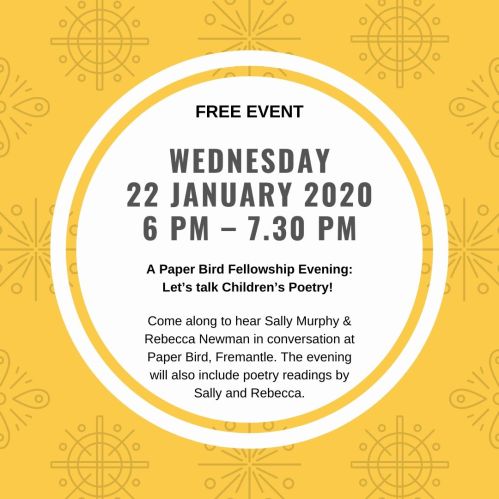 If you follow me on social media, you might already know that I finished 2019 on a high note with a second place in Jackie Hosking's rhyming poetry competition. The end of 2019 also heralded the end of my Paper Bird Fellowship. I was a Poet-in-Residence at Paper Bird for Term 4, and during my residency I was working on my children's poetry collection, Rules for Sneezing.
Which leads me to this exciting news:
A Paper Bird Fellowship Evening: Let's Talk Poetry!
I will be joining award-winning writer and children's poet Sally Murphy at Paper Bird to talk about children's poetry! And during the evening you can hear us read some of our own poetry. We'd love to see you there.
Date:
6 pm – 7.30 pm Wednesday 22 January 2020
Venue:
Paper Bird Children's Books & Arts,
42 Henry St, Fremantle, Western Australia
Cost/bookings:
This event is FREE! But bookings are required via this EventBrite link.
The Paper Bird Fellowship is a partnership between Paper Bird Children's Books & Arts, City of Fremantle Library, The WA Branch of the Children's Book Council of Australia, and the Australia West Branch of the Society of Book Writers and Illustrators.