In which I become a poet-in-residence
11/30/2019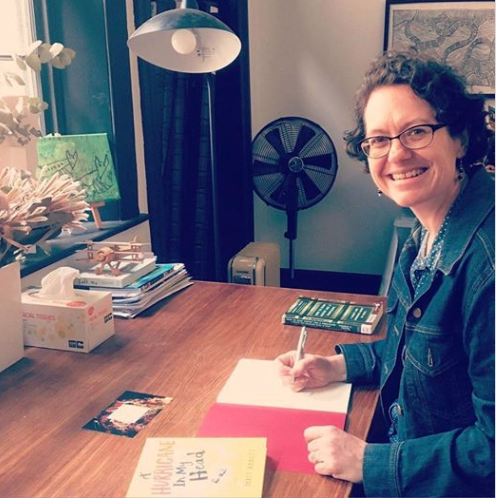 The past few months have been busy! Here's a quick recap:
This term I'm the recipient of a Paper Bird Fellowship. This means I have the use of a writing studio at Paper Bird during Term 4 while I work on my children's poetry collection. The collection is tentatively called Rules for Sneezing. I've been writing some brand new poems and polishing up some old ones, and preparing the whole collection to be ready for submission to publishers. It's been fantastic to be able to work on my poetry in such a creative space.
A huge thank you to Paper Bird Books, Australia West Branch of the Society of Children's Book Writers and Illustrators (SCBWI), the Children's Book Council of Australia (CBCA) WA Branch, and the City of Fremantle Library for granting me this term's Fellowship.
At the conclusion of the Fellowship I'll be presenting at a public event, so stay tuned for info about that, because it would be nice to have an audience to present to!
---
October was a great month — I had my first playscript published in The School Magazine (published by the NSW Education Dept). The play is called 'Back in Time to 2019' and it's about school students 40 years in the future who go on a historical excursion to 2019, when we still had plastic wrappers … and bees.
Here's the cover of the magazine, and me with the play on the day my author copy arrived in the mail. (Illustrations by the fabulous Cheryl Orsini.)
---
In October I was interviewed by 12-year-old Imani for a series of interviews she was hosting for Booktober. You can check out the interview here, where I talk poetry, and writing, my favourite ice-cream flavour and how I don't like the smell of books …
---
Still in October (a super busy month) I spent the month experimenting with different poetry forms. If you're on instagram, you can check out my efforts over there.
---
And in between all that I took 33 primary school students on a bus to recite 'Mulga Bill's Bicycle' by Banjo Paterson at a festival. The 33 kids belong to a Choral Speaking Club I run at their school once a week. Those kids are fabulous.
---
And that was enough, really! Now it might be time for a long nap.